Alaska Yellow Cedar for Making Wooden Lures
by Kermett Adams on 12/10/12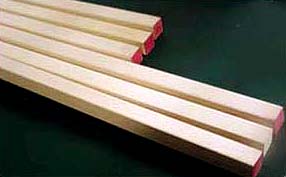 There are several woods that are nice for making wooden lures but one of my favorites is Alaska Yellow Cedar. It is reasonably priced and is available in beautiful, knot free grades. My source of the Alaska Yellow Cedar Spindles is a company by the name of Cedar-4-Sale.
The spindles are called 2 inches x 2 inches square but are in fact 1.5 inches square. They are available in #1 and #2 grades. I have only used the #1 grade. The #2 grade costs a little less and I think has a few knots. The spindles are available for sale in lengths from 12 inches to 48 inches. The minimum quantity of spindles in a single order is 25 spindles.
The Alaska Yellow Cedar is a favorite of many wooden lures makers as it turns beautifully, sand wells, and takes sealer and paint well. The AYC is reasonably durable wood as compared to some softer woods like bass wood or Eastern Red Cedar.
Good fishing,
Kermett